5600+ Ultimate Pixel Art Fantasy RPG Icon Pack
A downloadable All in one Asset pack


This pack made by the Clockwork Raven Studios possess 5616 Fantasy icons, mostly being unique pieces and the rest are recolors or icons with little changes so you can use it on different material types without losing the style, all in a unique and ready to use sprite sheet and also with separated image files.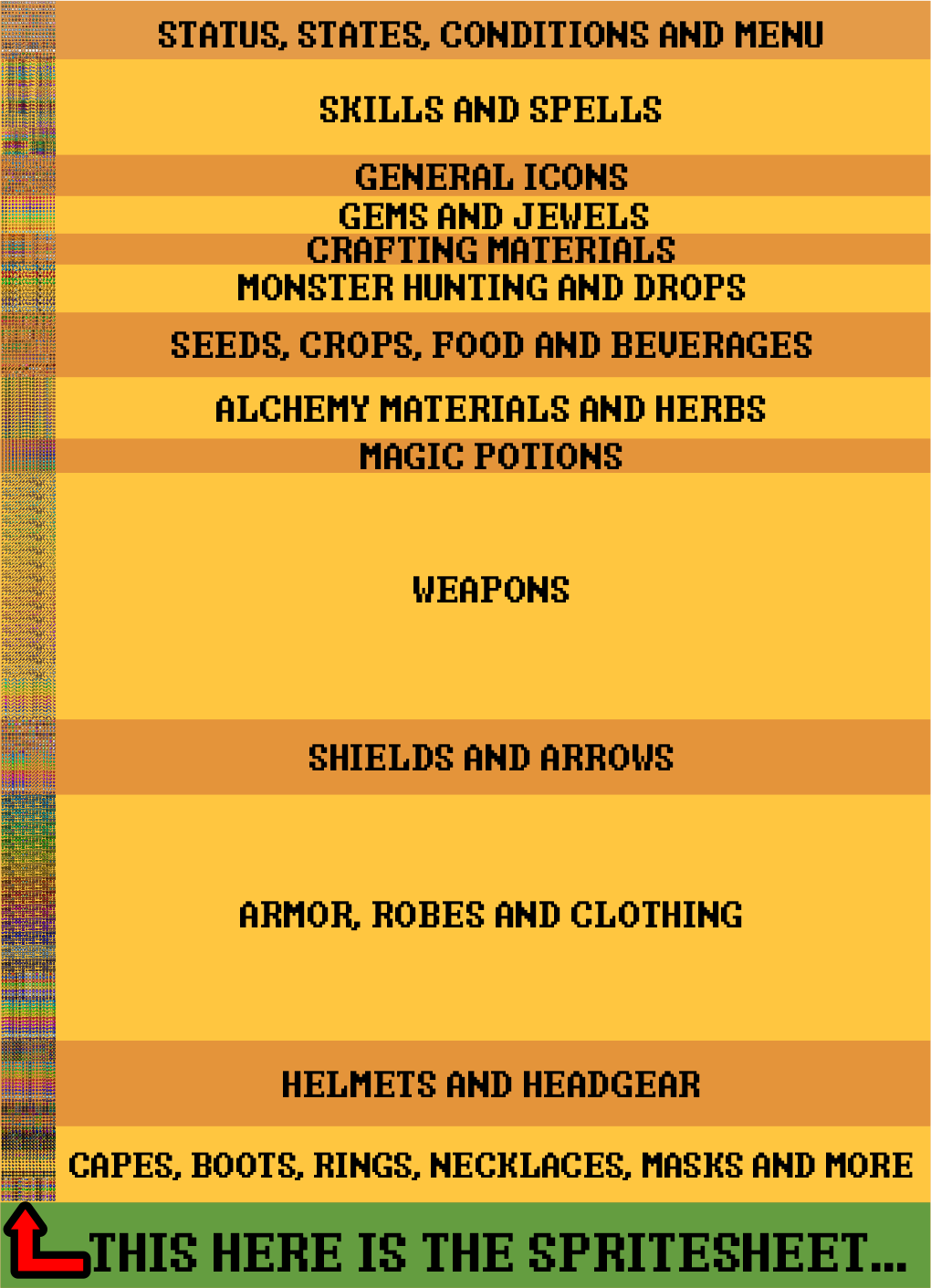 THEMES COVERED:
Conditions/States:
This one are intended to be used as icons to buffs, diseases, poison, curses etc... they come half with a balloon and without the balloon as option.
Attributes/Stats:
Strength, Dexterity, Magic, etc, icons for stats on the menu and with arrows up and down to show raise or reduce... they too came with and without balloons.
Basic Menu
Icons for Menu, like Inventory, system, character and more...
General Items and Tools
Everyday items, and tools, things you can find in a barrel, maybe treasures of a chest, items that may or may not have a function in a game, like dices, shovel, hourglass, mirror etc..
Gems and Jewels
A lot of Gems and Jewels of different colors, inspired by ARPGs games this icons can be used as part of a treasure or even as magic gems to enchant and make items more powerful
Crafting Materials
Most RPGs have a crafting system, this one is a lot of basic materials like ores, ingots, coal, crystals, wood, leather, a lot of things you may use for your own game craft system.
Monster Hunting and Drops
Right, this one is inspired by game like Monster hunter and Ragnarok Online, this represents a lot of monster parts, like bones, horns, wings, things that may be used as a material for a item creation, maybe items you have to deliver for a quest, maybe junk items that you gonna drop and sell to a merchant.
Food, Crops and Beverages
As the name says, a lot of seed, fruits, vegetables, meat, cooked meat, spoiled food, ready food, beverages, cups, bottles a lot of things you may want to use on a open world game, maybe a farm game or a food restaurant game
Alchemy Materials
Like craft materials, but this one is focused on magic crystals, special herbs and mushrooms, things that a player will gather then use it to make potions or some other magic items.
Magic Potions
Potions! with a lot of different sizes and colors, for any use or effect.
Weapons
A ton, like really ton of weapons, here you will have axes, swords, scythes, bows, spears and more, a fantasy weapon dream. A lot of it are made similar to some shields, helmets and armor so you can work on item sets with special effects if you want.
Shields
A lot of different shields, magical or not, for different use and effects, inspired both by medieval historic ones and fantasy. A lot of it are made similar to some weapons, helmets and armor so you can work on item sets with special effects if you want.
Armor and Clothing
A Ton of Colored Armors and clothing, with different types of materials too. you will got here, for armor, garments, suits, dresses, capes and other clothing made of fabric and metal. A lot of it are made similar to some weapons, helmets and shields so you can work on item sets with special effects if you want.
Accessories
Rings, Crowns, Necklaces, Boots, Belts, Capes, anything you may need, things you can use as magic items or maybe general use, like junk drops for selling.

Masks
This part covers some fantasy and mythological masks for any use on your game. maybe a Magic Mask with some unique abilities, maybe a masked monster drop, maybe a quest item, use as you see fit.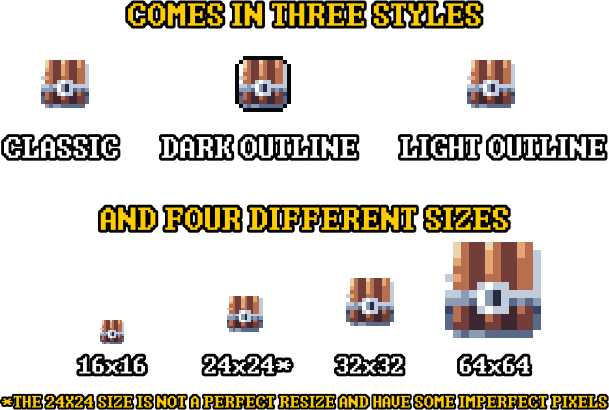 Features and Rights:
1- All sprites come in 16x16, 24x24, 32x32, 64x64. with dark outline, light outline and a classic, without any.

2- Classic 16x16 Pixel art style, can match most RPGs.

3- 16 square grid ready to use sprite sheet, to Match with RPG Maker XP, VX, VX ace, MV, and MZ.

4- Not only in a "sprite sheet" but all images will come too in separated png files.

5- This asset can be modified to match any of your need. This asset can be used in any project, even commercial and physical(print or tabletop) ones, but it cannot be distributed or sold as a separate product without the creator's permission (me).

6- Attribution is not necessary but welcome. And if you use it in any project ill be happy to have a link or (and) a copy :)

7- For more detailed licensing information: License
Get this asset and a lot others for free with our: Patreon, Already a Patreon Download for free: Here
Obs: The icons here, is the same contained is the products listed bellow, yet the ones in this pack are modified, updated as a lot of my old packs became "old". So color corrections, size corrections, a lot of fixes that made some old art looks better, not only fixes but i add some new icons and recolors. See the Product list:
Freebies: Click here to see and get our free products!
If you have any questions or suggestions, please do so below in the comments for me to add and change it, in the next updates and upcoming products!

Purchase
In order to download this All in one Asset pack you must purchase it at or above the minimum price of $20 USD. You will get access to the following files:
5600+ Ultimate Pixel Art Fantasy RPG Icon Pack.zip
51 MB
Comments
Log in with itch.io to leave a comment.
This asset pack is amazing. So many icons in different color schemes and sizes. And they look great!
hey I purchased this pack and all I get are black icons to choose from, but when I pick one it shows up correctly. Any help on this. I might have installed it wrong but otherwise I like your icons they are really nice.
thanks for the compliment and purchase. I dont think there is a problem? This never happenend before, all files are Black?
yes when I imported it shows black when I go to choose an icon, but after I choose one it shows up on the icon. It pretty much is hard to choose which one I want.
this is weird, really, but I will take a look. Do you tried the full spritesheet?
Hiya Raven!
I was wondering if you'd ever do Balloon sets for RPG Maker MV? The ones i'm talking about are the emoting balloons you can use when programming events! If they're already a thing then I'd love to be directed to them! Otherwise I believe this would be a good thing to work on if you ever can! Great work with the tilesets and these icons! It makes me feel like i'm in the SNES era with all these retro assets!
Best of Luck and thank you again :)
hello, thanks for the compliment, im glad you liked my work. I do have plans for a emotion icon pack in the future, keep following me for updates :)
Oh wow! I'm glad you're working on that! I'm already following you so hopefully i'll get the updates! Is there an estimated release date by chance? :o
I'm using this set to help finish off a tiny project.
I LOL'd at #5516, brought back memories.
Great set, and great work!!
I have three questions.

1. These sprites are CC0/public domain for use commercial and not commercial?

2. If I buy this pack, Will I have all your sprites of your store?
3. If I join your Paetron, Will I have all your sprites to low cost?
Hello, i will answer this questions with the best of my abilities.
1- This sprites have commercial and non commercial use, for almost any purpose except you can modify as you see fit, except share it or resell it.
2- You will have a modified(better) version of all the icon packs i described on the list in the end of the page, further it is all the sprites i have currently except for one (dark fantasy) intended to be a standalone product.
3- Yes, you will get everything i released until today for 5$ and will always get everything while you stay as a patreon, the new products i mean.
Hope this helps, Regards ;)
I've purchased every item/icon pack you've listed on itch except this one. Are there any new icons in this set?
All the old icons got recolored to the new palette i'm currently using, there new recolored icons and some new icons with little changes, the outline has been updated too to a thinier and better looking one, so its not a mandatory thing but may be interesting and useful.
Hey Caio,
cool Icons! I would have a suggestion about your "recolored versions". I'd like more natural colors. Some of them are very bright and have a high contrast. Like your attributes the most, would like to see more!