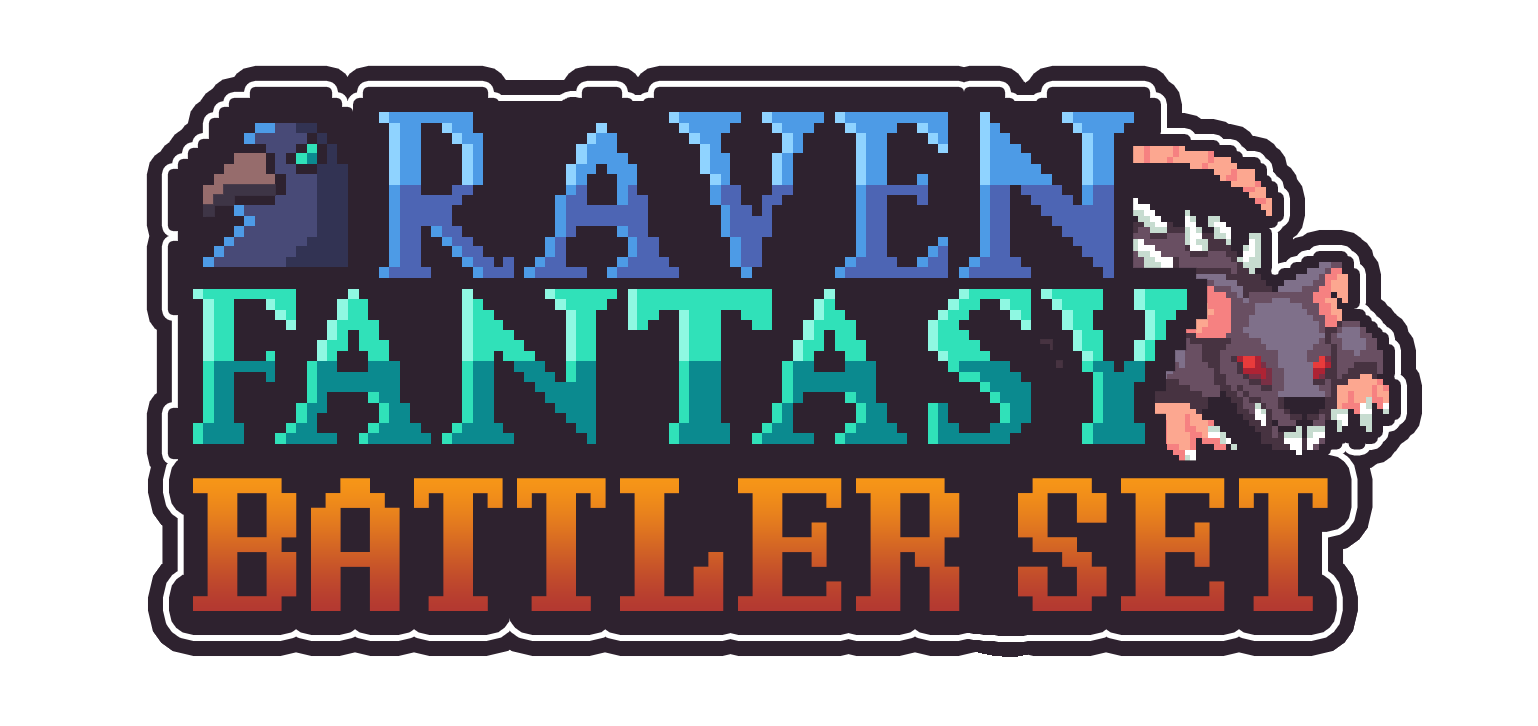 Raven Fantasy - Pixel Art Creatures - Battler Set
A downloadable asset pack
Named after the line of fantasy tilesets I'm currently working on named Raven Fantasy, this tileset pack is inspired by some amazing games and artists, which have in mind a warm palette and simple yet beautiful pixel art looks that can match most game themes.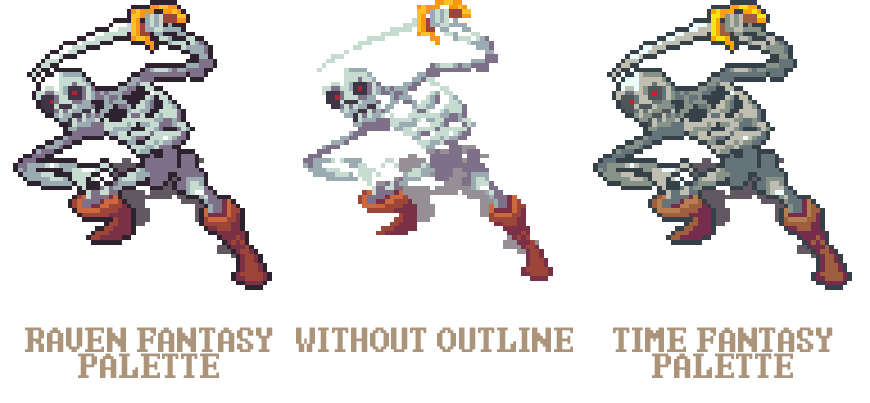 This pack has:
32 creatures/enemies for a turn-based RPG that uses the Raven Fantasy Style.
The same Creatures but also with the Time Fantasy Palette which I did receive permission from its creator, Jason Perry(finalbossblue).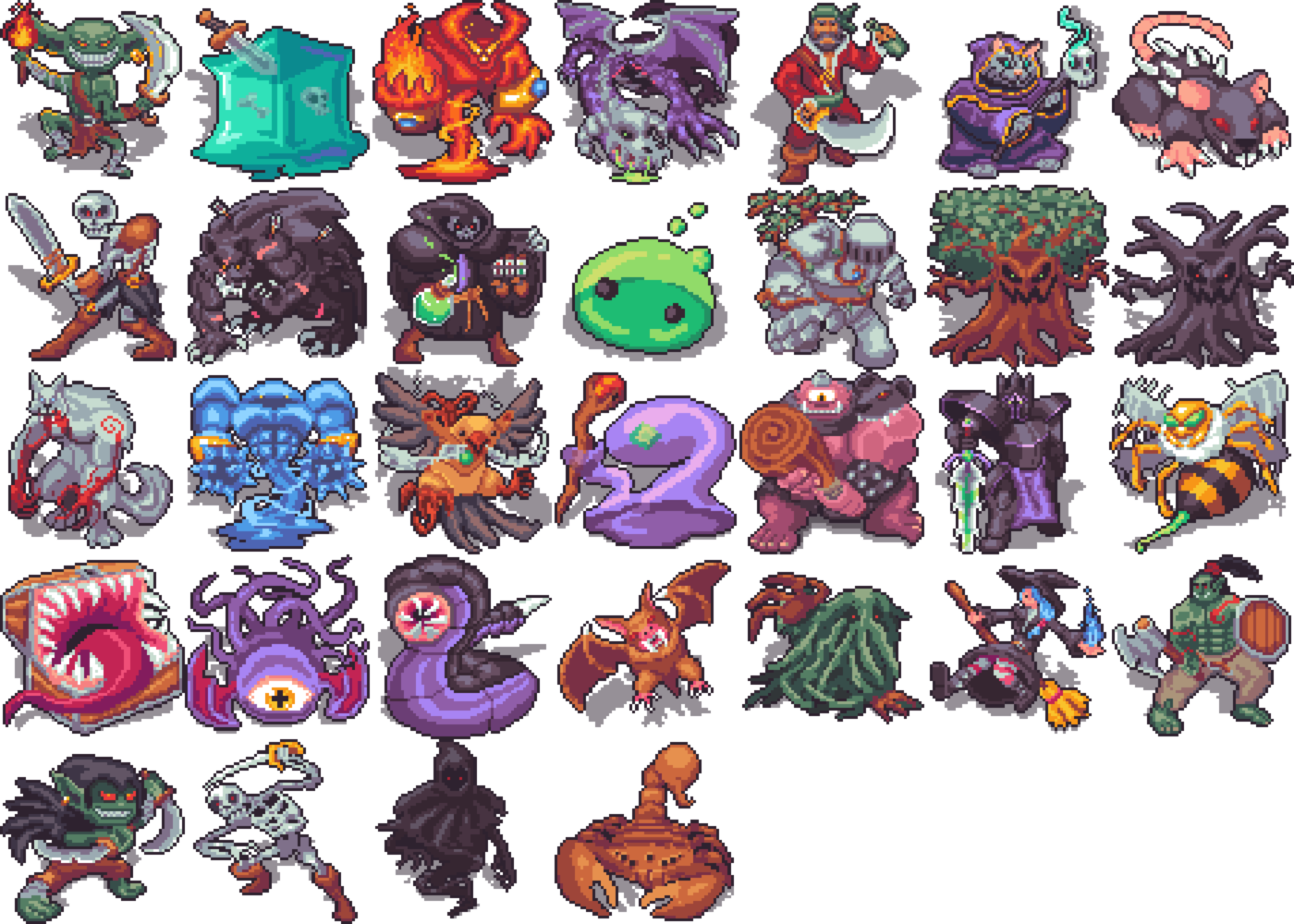 Features and Rights:
1- A Variety of monster battlers, all created with a native 64x64 size.

2- Classic warm 16-bit Pixel art style, can match most RPGs.

3- A color palette document included with a download link that belongs to Kerrie Lake and is named Resurrect 64.

4- This asset can be modified to match any of your needs. This asset can be used in any project, games, and game engines, including personal, commercial, and physical(print or tabletop) ones, but it cannot be distributed or sold as a separate product without the creator's permission (me).

5- Attribution is not necessary but welcome. And if you use it in any project ill be happy to have a link or (and) a copy :)

6- For more detailed licensing information: License
Download this asset and a lot of others for free with our: Patreon Already a Patreon? Download for free: Here
Freebies: Click here to see and get our free products!
See also:
If you have any questions, issues, or suggestions, please do so below in the comments for me to add and change them, in the next updates and upcoming products!

Purchase
In order to download this asset pack you must purchase it at or above the minimum price of $10 USD. You will get access to the following files:
Raven Fantasy - Pixel Art Creatures - Battler Set.zip
830 kB
Comments
Log in with itch.io to leave a comment.
do these assets move like have diffrent sprites
hello! The battlers are static images if thats the question.
The one that says Raven Fantasy for the skeleton at the top, the one on the left has no outline just like the one next it that is supposed to have no outline. It's that it seems pointless to have a no outline version if there isn't one on the first image. I would like to see how an outline looks with the other color palette that's Raven Fantasy not Time Fantasy. The two first skeletons scanning left to right are the same images.
Hello, the Time fantasy version if im sure includes outline because is part of the style, now the normal one (raven fantasy) come with and without outline. But if you are speaking about the image above i just saw it, is because the background and the outline have the same color. Im just dumb, sorry.
I doubt you're dumb. Don't put yourself down.
yeah... thanks, it was just a mistake. I will fix the image when i can but the package should be okay.
Hello. I have some questions to you.
Actually, I bought this bundle the name is Raven. But, today I checked the update of this bundle added Raven Fantasy.
How can I get updated bundle package ? Because I really need it.
Hello, i'm not sure if i understood your issue correctly but i will try my best to help. So you purchased the Raven Bundle before the release of this new asset? And you want access to it? If this is right(or not), send an email to caioterci@gmail.com then we can talk about this. :)
Please check your email ;)