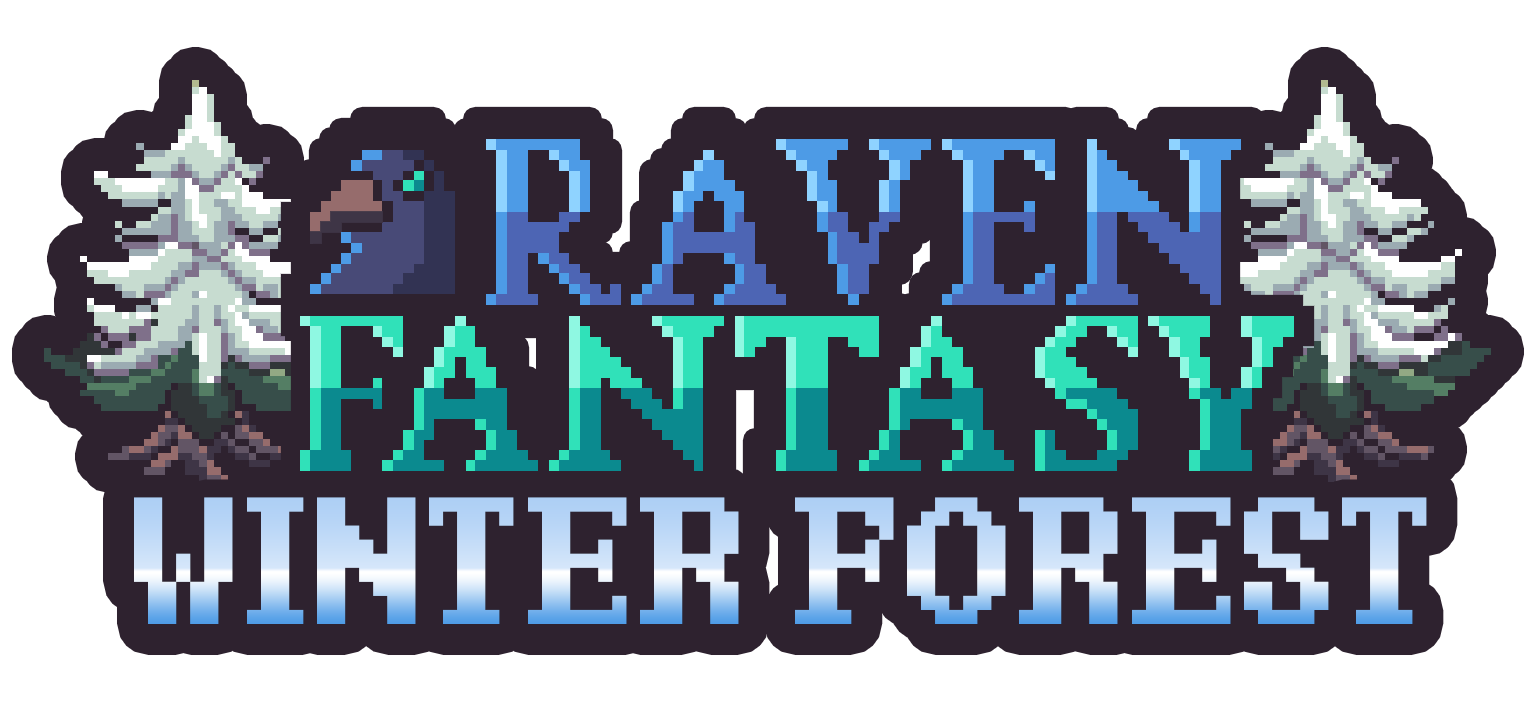 Raven Fantasy - Pixel Art Tileset - Winter Forest
A downloadable asset pack
Get this asset pack and 14 more for $60.00 USD
View bundle
Named after the line of fantasy tilesets I'm currently working on named Raven Fantasy, this tileset pack is inspired by some amazing games and artists, which have in mind a warm palette and simple yet beautiful pixel art looks that can match most game themes.
The pack possesses a lot of Fantasy Tilesets, specifically, this one is focused on a cold and snowy forest, a perfect place to explore and survive its dangers.
This pack has:
Many tilesets, including fully animated and directional frozen water.
New trees and snow versions of the old ones.
Ice spikes! And frozen stuff.
Very cool stones.
You can see the full tileset on the image below: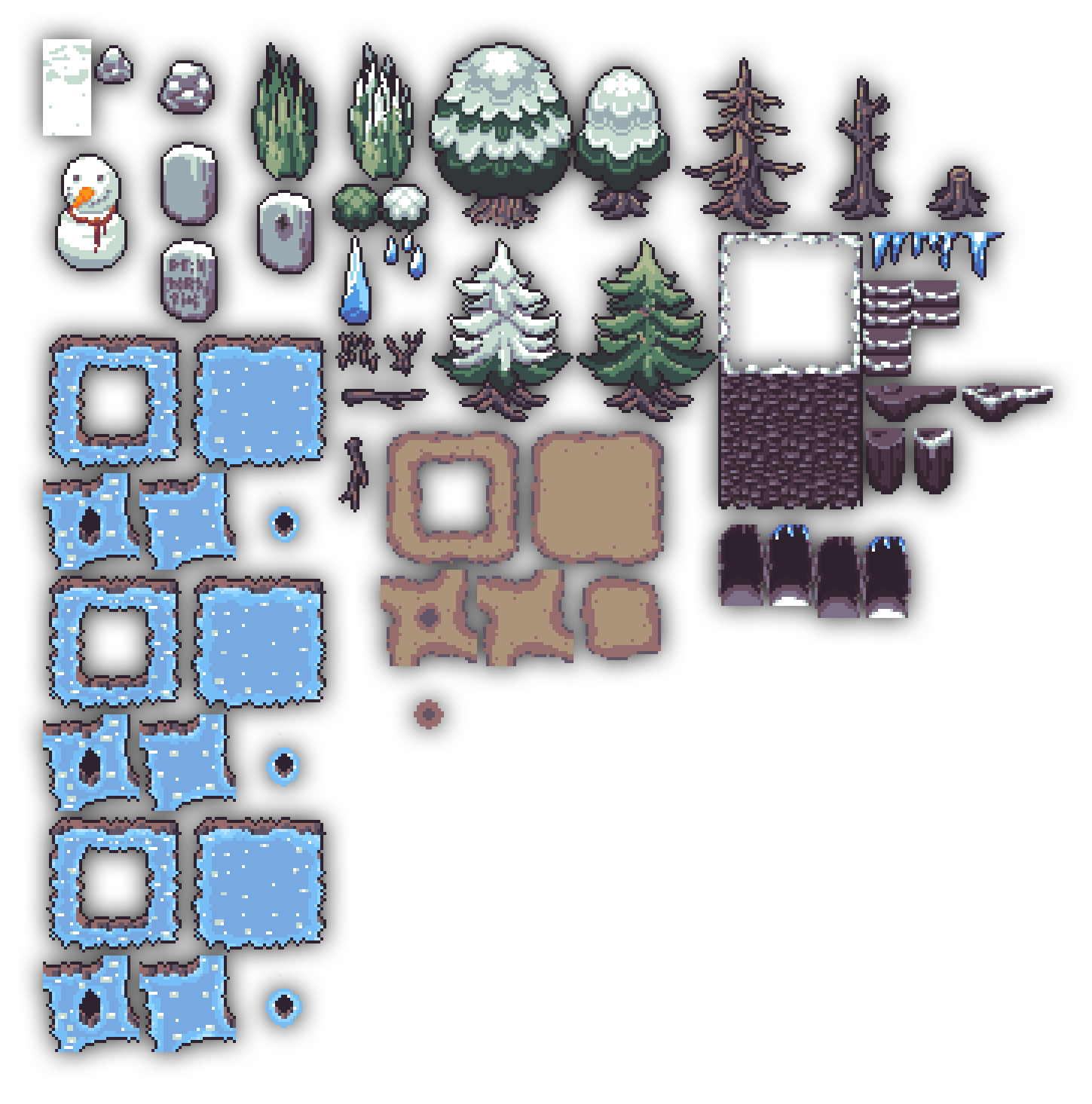 Features and Rights:
1- A Variety of tilesets, including animated ones. All sprites come in 16x16, 32x32, 48x48, 64x64.

2- Compatible, yet slightly different tileset with Rpgmaker MV and MZ, as to make it as perfect as possible I changed some things. Ready to use assets (Comes with Import Manual). You can see the example on the "RPG maker gif" above.

3- Classic warm 16-bit Pixel art style, can match most RPGs.

4- A color palette document included with a download link that belongs to Kerrie Lake and is named Resurrect 64.

5- This asset can be modified to match any of your needs. This asset can be used in any project, games, and game engines, including personal, commercial, and physical(print or tabletop) ones, but it cannot be distributed or sold as a separate product without the creator's permission (me).

6- Attribution is not necessary but welcome. And if you use it in any project ill be happy to have a link or (and) a copy :)

7- For more detailed licensing information: License
Download this asset and a lot of others for free with our: Patreon Already a Patreon? Download for free: Here
Freebies: Click here to see and get our free products!
See also:
If you have any questions, issues, or suggestions, please do so below in the comments for me to add and change them, in the next updates and upcoming products!

Purchase
Get this asset pack and 14 more for $60.00 USD
View bundle
In order to download this asset pack you must purchase it at or above the minimum price of $8 USD. You will get access to the following files:
Raven Fantasy - Pixel Art Tileset - Winter Forest.zip
212 kB
Comments
Log in with itch.io to leave a comment.
Terms of use on your assets?
I paid $50 for the Bundle 30 days ago and now it's $10. That wasn't cool man. There wasn't even a wait time between promotions.
Hello, sorry to hear that, the sale generally lasts 30 days, which I change every month to a Bundle sale which a higher price, something is a better deal than others. So it's like a Sale every 2 or 3 months
Before buying I would like to know if there is a Window.png image with a proper style for your assets.
You mean the color, and UI stuff file from the rpg maker? Unfortunately, not yet. Most assets are compatible with RMMV and MZ tho
So they're not all RMZ compatible? I didn't quite understand what you said.
not all, yes, but almost all. By compatibility I mean native compatibility
How can I identify this difference? I don't want to regret buying, my projects are all made in the RMZ. Thanks
thats easy, you can look at the disclaimer and features in every asset page. The ones that are compatible will say specifically
Impressive work. Are all assets RMZ compatible? Buying the complete package for 50$ give me access to everything and permission to sell games on Android without copyright restrictions?
Yes you can use it on any project or game unlimited times. The post has a link to the license if you want to take a better look. Any question im here tho.